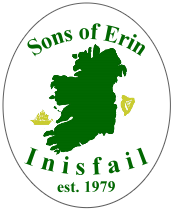 Club News
38th Colleen Ball

The 38th annual Colleen Contest and Ball will be held Friday, February 1st at 6 pm at Chez Josef in Agawam.   Members and friends are invited to support the Colleen Committee and this event by becoming a sponsor in our program book for $10 (sponsor form available on the website) .  The deadline to submit sponsorship is Friday, January 4th.  Tickets for the ball will be on sale at the bar in late December.     Tickets are $60.00 each, meal choices are Filet Mignon, Baked Stuffed Shrimp, Chicken Francaise and Vegetable Napoleon.  A Children's meal of Chicken Tenders is available for $30.00.  The deadline to purchase tickets is Friday, January 25th.    We thank everyone for their past and continued support!!!

 

Hall or Pavilion Rentals

To rent our facilities please contact our Bar Manager, Brian Colton, by phone at (413) 537-0490.

2018 Colleen and her Court

Congratulations to our 2018 Colleen Mackenzie Hope Rogers and her Court, Brianna Marie Weltlich, Maddeline Lena Frey, Jasmine Alize Malochleb, and Catie Mackenzie Laraway.

Mackenzie is 21 years old and a junior Dean's List student at UMASS where she majors in Communication Disorders with a minor in Education.  Mackenzie is working towards her certification as a specialist in Developmental Disabilities and Human Services.  After graduating from UMASS Mackenzie plans on attending graduate school to obtain a Master's Degree in Speech Pathology.

Brianna is 22 years old and a senior Dean's List student at Springfield College where she is working towards a degree in occupational therapy with double minors in psychology and rehabilitation studies.  Brianna will graduate this Spring from the Occupational Therapy program and plans to continue her education by completing graduate school to earn her Master's Degree from Springfield College. 

Maddeline is 18 years old and a senior at Southwick Tolland Regional High School.  This Fall Maddeline plans to attend a 4 year university to double major in International Business and Management with a goal of earning a Master's Degree in Business Administration.

Jasmine is 19 years old and a freshman at Holyoke Community College.  After earning her Associate's Degree from HCC Jasmine plans to continue her education and major in both Fine Arts and Performing Arts.

Catie is 21 years old and a senior Dean's List student at Springfield Technical Community College.  She looks forward to becoming a registered nurse after graduating this May. 

 

The 2018 Billy Buzzee "St. Pat on the Back" Award

Congratulations to our Billy Buzzee St. Pat on the Back award winner Paul Sawyer!  Paul is a longtime member and can always be found at the grill for various Club events, always willing to lend a hand.  He's also a member of our award winning Float Committee!  

2018 Parade Marshal

Congratulations to the 2018 Parade Marshal Joanne Miller!  

Early on Joanne became involved in the Westfield community, becoming active at St. Mary's Church serving as a CCD teacher in the religious education program.

She worked as a Registered Nurse in community health throughout Western MA and joined the staff of the Westfield Public Schools as a School Nurse, working at Juniper Park Elementary School and Russell Elementary School retiring in June after twenty eight years of service. While working as a School Nurse worked with another teacher to establish a Food Pantry and initiated a Christmas Angel program where staff provided Christmas gifts to help families in need in our school family.

Joanne was an original member of the Sons of Erin Soup Kitchen Committee serving a meal once a month at the Our Community Table and continue to volunteer at the soup kitchen with a group known as "Friends".

Joanne also volunteered as a Registered Nurse and served on the Board of Directors of the Greater Westfield Free Health Services which provided free medical care for the uninsured and underserved of the greater Westfield community for over five years until it closed in 2014. She joined the St. Vincent DePaul Society in 2004, serving as its' president for 9 years. 

​

2018 Thomas M. Kane Irishman of the Year

Congratulations to Peter Miller on being named the 2018 Irishman of the Year.  

Peter was the Vice President from 1982-84 and again 2011-13 and on the board 2009-10.  He was the Editor of the Newsletter in the mid 80s and served as Chairperson of the Scholarship Committee for about 5 years.  He was chair of the Building Committee (led review of need to bring facilities into compliance for fire safety and handicap access).  In 2007 he established (with Pat Scanlon) the SOE volunteer committee to serve monthly meals at The Community Table (Soup Kitchen).

 

Peter also chaired fundraising effort to get necessary capital for making facilities ADA compliant.

 

 

 

 

2018 Dorothy B. Griffin Irishwoman of the Year

Congratulations to Kara Herman on being named the 2018 Dorothy B. Griffin Irishwoman of the Year.   

Kara is a former member of the 1990 Colleen's Court.  She has been a member of Colleen Committee since 1995, was a past treasurer and chairing the committee at one point

Kara assists in planning and hosting various committee fundraising events annually for the Colleen Committee.  She provides the photo boards for the contestants, coordinates advertising & development for the Colleen Ball program book, prepares the contestant bios, created the contracts which defines standards & expectations of those selected.  

Kara coordinates judge participation each year and has served as emcee for the ball as well.

Kara is very proud of her Irish heritage! 

 

 

 

 

Newsletter / Newsblast

The Club's conversion to an email format for our newsletter is ongoing. This conversion is a substantial savings to the Club in postage, printing and labor, as well as being an eco-friendly alternative.  If you have not already done so, please send your email address to soewestfield@gmail.com to receive your newsletter online.  If you have no access to a computer, you may send your mailing address to Sons of Erin Newsletter, P.O. Box 1136, Westfield, MA 01086, Attn: Karen Casey, to receive a hard copy of the newsletter.  Let's Go Green!!!

2019 Club Officers

Congratulations to the 2019 Club Officers

President - Jim Laverty

Vice President - Dermot Hurley

Treasurer - Bridget Barber

Sgt. at Arms - Kevin Fitzgerald

Recording Secretary - Megan Sweet

Membership Secretary - Dennis Moran

Board of Directors

Mike Conroy

Peter Miller

 Bill Wallace

Steve Griffin

Steve Witkus

Mike McMahon

 

Quote of the Month

"For each petal on the shamrock this brings a wish your way, good luck, good health and happiness for today and everyday" - unknown

General Membership Meetings

The Club's General Membership meetings are held on the first Sunday of each month at 12:00 noon.  Meetings are usually suspended for the summer months of June, July and August. 

Commemorative Bricks

The Building Committee is selling Commemorative Bricks that will be used to pave a "Memorial Walkway" leading to the 911 Memorial at the Club.  These bricks can be inscribed in the memory of a departed family member, loved one, or with your own name.  The Walkway enhances the beauty of the 911 Memorial dedicated in the memory of Daniel Trant, Tara Creamer and Brian Murphy.  Cost is $50.00 per brick.  Forms are located at the Club.

Commemorative Veteran's Coins

The Club has created a Commemorative Veteran Coin to be issued to the Club's Irish-American Veterans.  You are also eligible to receive one on behalf of a deceased family member that was a veteran.  The coins can be personalized with an engraving at your own expense.  Please contact Dermot Hurley to receive your coin.

Club Dues

General Membership - $50.00, Seniors Over 65 - $25.00.   Women's Aux - $35.00, Seniors Over 55 - $17.50.  There is a $10.00 late fee for payment after February 1st.  An initial one-time fee of $100.00 for new general members will be assessed.  This fee is waived for new members between the ages of 21-25.