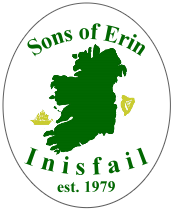 Club News
Scholarship Applications

The Sons of Erin Scholarship is available to any member or child/grandchild of a member who will be pursuing full-time undergraduate education beyond the secondary level. The criteria used by the committee in determining recipients include financial need, scholastic achievement and extracurricular activities. Please download and prepare all documents. An application will only be considered if ALL the required information is submitted and postmarked by March 31, 2018. All information must be received by mail. Applications are available on this website and also at the Sons.

Colleen Ball

The Colleen Ball will be held on Friday, February 2, 2018 at Chez Josef, 6:15 Cocktail hour - 7:00  Dinner
Tickets $60
Meal choices are Filet Mignon, Baked Stuffed Shrimp,Chicken Francaise or Vegetable Napoleon
Also there is a children's chicken tender meal for $30

Colleen applications are available at all local high schools and on the Sons of Erin website
Applications need to be postmarked no later than January 17th.

 

Hall or Pavilion Rentals

To rent the Colleen Hall please contact our Bar Manager, Jim Kane, by phone at (413) 562-5927.

To rent the Pavilion please contact outdoor bar managers, Barb Rogers at (413-374-3482 or Karen Casey at (413) 575-6475

 

2017 Colleen and her Court

Congratulations to our 2017 Colleen Ashley Rose Day and her Court, Katie Rose Knapik, Fiona Margaret Cioch, Caitlyn Nicole Blanchard and Hannah Lynn Baker.

Ashley is 20 years old and a graduate of Westfield High School.  She is a sophomore at UMASS and is studying kinesiology. After graduating she plans to pursue a doctorate in physical therapy at Springfield College.

Katie is senior at Westfield High School. She is Vice President of the National Honor Society and co captain of both the basketball and track teams. Katie's goal is to combine her interest in science and her commitment to service by pursuing a degree in nursing.

Fiona is a junior at Westfield High School. She is a member of the student council, band and the National Honor Society and council on peer education.She hopes to attend UMASS and pursue a degree in nursing.

Caitlyn is a junior at Westfield State University. While in high school she was president of the key club and president of as schools match wits. She is currently a certified and licensed EMT. Caitlyn hopes to attend medical school.

Hannah is a senior at Williston Northampton School.She is captain of the field hockey team and plays on the varsity basketball team. Hannah plans on attending college and earning a bachelor of science in nursing.

The 2018 Billy Buzzee "St. Pat on the Back" Award

The BOD has created a new award in honor of our late friend, Billy Buzzee.  The Billy Buzzee "St. Pat on the Back" will be awarded annually to any individual or group, Club member or not, in recognition of their selfless contribution to the Sons of Erin itself or in recognition of their efforts to foster, promote and perpetuate the furtherance of Irish-American culture.  

We are happy to announce that this year's recipient is Paul Sawyer.  

2018 Parade Marshal

Congratulations to the 2018 Parade Marshal Joanne Miller!

2018 Thomas M. Kane Irishman of the Year

Congratulations to Peter Miller on being named the 2018 Irishman of the Year.  

 

2018 Dorothy B. Griffin Irishwoman of the Year

  Congratulations to Kara Herman on being named the 2018 Dorothy B. Griffin Irishwoman of the Year.  

Newsletter / Newsblast

The Club's conversion to an email format for our newsletter is ongoing. This conversion is a substantial savings to the Club in postage, printing and labor, as well as being an eco-friendly alternative.  If you have not already done so, please send your email address to soewestfield@gmail.com to receive your newsletter online.  If you have no access to a computer, you may send your mailing address to Sons of Erin Newsletter, P.O. Box 1136, Westfield, MA 01086, Attn: Karen Casey, to receive a hard copy of the newsletter.  Let's Go Green!!!

2018 Club Officers

Congratulations to the 2018 Club Officers

President - Dick Casey

Vice President - Jim Laverty

Treasurer - Bridget Barber

Sgt. at Arms - Kevin Fitzgerald

Recording Secretary - Megan Sweet

Membership Secretary - Dennis Moran

Board of Directors

Joe Conroy
Mike Conroy
Jim Casey
Dermot Hurley
Brian Colton
Bill Wallace

 

Quote of the Month

As we express our gratitude, we must never forget that the highest appreciation is not to utter words, but to live by them.

-John Fitzgerald Kennedy

                                                                                            

General Membership Meetings

The Club's General Membership meetings are held on the first Sunday of each month at 12:30 PM.  Meetings are usually suspended for the summer months of June, July and August. 

Commemorative Bricks

The Building Committee is selling Commemorative Bricks that will be used to pave a "Memorial Walkway" leading to the 911 Memorial at the Club.  These bricks can be inscribed in the memory of a departed family member, loved one, or with your own name.  The Walkway enhances the beauty of the 911 Memorial dedicated in the memory of Daniel Trant, Tara Creamer and Brian Murphy.  Cost is $50.00 per brick.  Forms are located at the Club.

Commemorative Veteran's Coins

The Club has created a Commemorative Veteran Coin to be issued to the Club's Irish-American Veterans.  You are also eligible to receive one on behalf of a deceased family member that was a veteran.  The coins can be personalized with an engraving at your own expense.  Please contact Dermot Hurley to receive your coin.

Club Dues

General Membership - $50.00, Seniors Over 65 - $25.00.   Women's Aux - $35.00, Seniors Over 55 - $17.50.  There is a $10.00 late fee for payment after February 1st.  An initial one-time fee of $100.00 for new general members will be assessed.  This fee is waived for new members between the ages of 21-25.