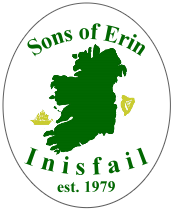 Club News
New Year's Eve

Join us on New Year's Eve, music by the Lost A-Sides from 5-9 pm, and the "ball" drops at 7 pm. Bring a dish to share, always a fun time!

2023 Scholarship Recipients

2023 Sons of Erin Scholarship Recipients - Thanks to all who donated!
 

Sons of Erin Scholarship

   Grace Kuhn , Jillian Stopa

   Andrew Bilodeau,  Bailey Tymeson

Sons of Erin Women's Auxiliary Scholarship

   Kaylie Phillips,  Andrew Pitoniak

Wendy Burke Memorial Scholarship

   Kelly Burns

Edward Ferriter Memorial Scholarship

   Colin Boyle

George Heath Memorial Scholarship

   William Flaherty

Richard Hills Memorial Scholarship

   Nyah Bordeau

Patrick & Eileen Hurley Memorial Scholarship

   Samantha Pitoniak

Donna Liptak Memorial Scholarship

   Emma Brumley

Susan Mulvenna Memorial Scholarship

   Andrew Rood

Norma and Tom McElligott Memorial Scholarship

   Matthew Pitoniak

James Michael O'Connor Memorial Scholarship

   Maura Wurster 

James Romani Memorial Scholarship

   Caden Matuszczak

Francis X. and Mary M. Sullivan Memorial Scholarship

   Alec Cangemi

 

 

 

 

Hall or Pavilion Rentals

To rent our facilities please contact our Bar Manager, Brian Colton, by phone at (413) 537-0490.

2023 Colleen and her Court

Our 2023 Colleen is Ciara Johnson-Corwin! Ciara is 17 years old and a Senior at Westfield High School.  She is the founder and president of Letters for Rose and the Future Medical Professionals Club and Westfield High.  She is also the President of Key Club, Multicultural Club and co-president of Best Buddies.  Ciara is a member of the National Honor Society, Tri-M Music Honor Society, Student Council, and a member of both the Unified Track and Ski Teams.  Ciara volunteers at Baystate Medical Center as a way-finder and greeter. She enjoys participating in the Baystate Springfield Educational Partnership at the hospital where she started a podcast and two PSAs.  In her free time, she loves to Irish step dance as well as dancing, hiking, working with watercolors, and traveling.  Upon graduation, Ciara plans on attending a college majoring in Biology of Global Health and minoring in Disability Studies.  Ciara would like to pursue a career as a physician.  

Our 2023 Court:

Kelly Burns - Kelly is 19 years old and a Sophomore at Clark University where she is studying Political Science.  Kelly is a member of the Pre-Law Society where she serves as Communications Director.  She is also a Yoga Club Member and Dance Society Emcee.  Kelly attended Westfield High School where she was captain of the gymnastics team, a member of the Key Club and a member of the National Honor Society.  In her free time, Kelly enjoys working out in the gym and practicing yoga.  She also enjoys attending sporting events, learning American Sign Language, thrifting and babysitting.  Kelly is employed part time by K's Japanese Restaurant in Westfield.  She plans to attend Clark University for 5 years in order to obtain her Master's Degree in Public Administration.  Upon graduation, she would like to explore a career in law. 

Shannon Corbett - Shannon is 17 years old and a Senior at Westfield High School.  She is employed part time by Big Y.  Shannon is a member of the band where she serves as Drum Major.  She is Vice President of the Tri-M Music Honor Society, and is a student class representative on the Student Council.  Shannon participates in the Westfield Promise Early College Pathway Program which allows her to take dual enrollment classes through Westfield State University.  She is passionate about the arts, which has led her to perform in downtown Westfield with members of the band, and also paint murals at local schools.  She was also nominated and selected for the Senior District Music Festival.  In her free time, Shannon is a member of the YMCA leaders club and a student pilot.  Upon graduation, Shannon plans on pursuing a career in aviation and would some day like to become a commercial airline pilot.

Cailyn Crean - Cailyn is 17 years old and a Senior at Westfield High School.  She is employed part at Dunkin' Donuts.  She also tutored a second grader in reading and math throughout her junior year of high school. Cailyn is a member of Best Buddies and Letters for Rose Club.  She participates in the Westfield Promise dual enrollment program, has remained an honor roll student all four years of high school and is a member of National Honor Society.  Cailyn is an active member at her church and volunteers at the Westfield Soup Kitchen. Cailyn enjoys babysitting, being with friends and family, and working as a camp counselor over the summers at Camp Shepard.  She participated in Irish step dancing at the Sons of Erin with Mrs. Z from the age of 5 until Mrs. Z retired, she then moved on to dance at other studios.  She loves going to the Cape and spent many summers there as a young child.  She also enjoys exercising and writing. Cailyn plans on attending a four year college or university in the fall and hopes to study film and writing   

Sarah Moriarty - Sarah is 18 years old and a Senior at Westfield High School.  She is a member of and serves on the Executive Board of the National Honor Society, Student Council, and Letters for Rose, where she delivers letters to nursing home residents. Sarah is Senior Class Secretary, a member of Council on Peer Education, and Reshaping Reality, a club focused on promoting body positivity.  She is a member of the Creative Writers Club, Debate Club, Best Buddies, Drama Club and serves as a National Honor Society Tutor.  Sarah is a member of the Varsity Volleyball team and also the Youth Advisory Council for the Western Mass Charity Dance-a-Thon.   Sarah enjoys taking piano lessons, playing the ukulele, singing, writing, poetry, theater, baking a decorating.  She is an active member of her church music group – Psalm 33, an altar server, church reader.  Sarah plans on attending a four year college, potentially followed by law school.  She is contemplating minoring in English, poetry, law or Spanish.

 

 

 

2023 Billy Buzzee "St. Pat on the Back" Award

Congratulations to our Billy Buzzee St. Pat on the Back award winner Patty Hills!  
Patricia (Patty) Howland Hills born in Georgia and in her childhood moved to the Westfield area.  Took up residency in Montgomery.  Was a graduate of Huntington High School.  
After being employed at Wilcox Insurance for a time she moved on to Noble Hospital.   Recently retired from Baystate Noble Hospital after 40 plus years of dedicated employment.  
 Patty, along with her late husband Richie Hills, spent many years together at their favorite enjoyment spot………..The Sons of Erin.  They could be seen joining in together to help with all projects and events. Patty received the honor of being Irish Woman of the Year and this year she received the Billy Buzzee Pat on the Back award which was the result of her dedication to the SOE over many years.    Also a long time active member of the Auxiliary.    
She is the proud mother of two daughters, Robin and Kimberly and stepmother to Patricia and Denise.   And she also has nine grandchildren and 12 grandchildren to enjoy.   

2023 Parade Marshal

Congratulations to our Parade Marshal for 2023 Kevin O'Connor! Kevin and his wife Joyce reside in Westfield, between them they have 5 children and 11 grandchildren. They enjoy spending time with their family and enjoy travelling to Florida along with the Cape, Maine and the Jersey Shore.

Kevin is the Executive Vice President and Chief Banking Officer for Westfield Bank where he has very happily worked for the past 13 years. He's been in banking for the past 44 years having spent 28 years at the same company through multiple mergers of Third National to Bank of New England to Fleet and to Bank of America and a short stint at NewAlliance. He enjoys being able to work and live in the same community allowing him more time with local business and community organizations.

Kevin is a Member of the Sons of Erin. Chairperson of the Board of Trustees for the Western Mass Charity Dance-at-hon, a fundraiser led by local youth groups with guidance and leadership from adult volunteers. The group was formed by many parishioners of Blessed Sacrament Church and is a citywide effort. He spent several years on the Finance Committee for Blessed Sacrament. Kevin is the Chairperson of the Board for the Genesis Spiritual Life and Conference Center – Kevin has been on the board for the past 5 years and was their Treasurer before becoming Chair. He is Vice President of the Board for the Irish Cultural Center of Western New England, where he serves on the Finance, Audit and Executive Committees. Kevin recently resigned after 15 years with the Kiwanis Club of Westfield where he was a Past President and the 2018 Kiwanian of the Year. He had been a past member of the Kiwanis Club of West Springfield. He is a past member and board member of the Rotary Club of West Springfield, past nearly 10 year board member and Vice President for the Greater Westfield Chamber of Commerce and past Chairperson of the Westfield Business Improvement District.  

 

2023 Thomas M. Kane Irishman of the Year

Gilbert Barrett (better known as "Gil") was born in Springfield, MA.   Gil enjoyed his childhood years in the Hungry Hill area in Springfield graduating from Cathedral High School in 1957.  After graduation, Gil served in the U.S. Navy.

Following his Navy time, he returned to Springfield.    He met and married Carol Capron in Springfield in 1965 to her death in 2014.    They started their family in Springfield but in 1971 the moved over to Westfield.   

Gil was employed by United States Postal Service in Springfield for 36 years, retiring in 1997.   Gil has enjoyed bartending at his favorite establishment….the Sons of Erin in Westfield for about 40 fun years.

Gil is the proud father of James from Shrewsbury, Karen Carrier from Feeding Hills, and Patrick from Westfield.   He also has nine grandchildren Ryan, Nick, Jacob, Ella, Joshua, Alivia, Liam, Owen who are so proud to call him Grandpa.

Over the years he has enjoyed many days on the golf course with his buddies.  Most of all his time playing cards (pitch) with his many friends.  

Congratulations Gil!

2023 Dorothy B. Griffin Irishwoman of the Year

Congratulations to Mary Jane O'Donoghue McMahon on being named the 2023 Dorothy B. Griffin Irishwoman of the Year.

Mary Jane was born and raised in the Forest Park area of Springfield and she's a retired Family & Consumer high school teacher. She taught at Southwick and East Longmeadow. MJ is married to Michael McMahon of Westfield and together the Raised 3 children Patrick, Brendan and Tara. They now have daughter in law Katy Ott McMahon and Grandchild Seán David McMahon. 

MJ has served on several committees at the Sons of Erin including the float and at the Irish Cultural Center, where she is the liason for the Sons.

Newsletter / Newsblast

The Club's conversion to an email format for our newsletter is ongoing. This conversion is a substantial savings to the Club in postage, printing and labor, as well as being an eco-friendly alternative.  If you have not already done so, please send your email address to soewestfield@gmail.com to receive your newsletter online.  If you have no access to a computer, you may send your mailing address to Sons of Erin Newsletter, P.O. Box 1136, Westfield, MA 01086, Attn: Karen Casey, to receive a hard copy of the newsletter.  Let's Go Green!!!

2023 Club Officers

Congratulations to the 2023 Club Officers

President - Jim Laverty

Vice President - Steve Griffin

Treasurer - Bridget Canty

Sgt. at Arms - Kevin Fitzgerald

Recording Secretary - Megan Sweet

Membership Secretary - Dennis Moran

Board of Directors

Mike Conroy

Dermot Hurley

Mike Kane

Mike McMahon

Paul Miller 

Steve Witkus

 

 

Quote of the Month

"December: A month of lights, snow, coziness, and feasts; time to make amends and tie up loose ends; finish what you started and make your wishes come true."
— unknown

☘️ 

General Membership Meetings

The Club's General Membership meetings are held on the first Sunday of each month at 12:00 noon.  Meetings are usually suspended for the summer months of June, July and August. 

Commemorative Bricks

The Building Committee is selling Commemorative Bricks that will be used to pave a "Memorial Walkway" leading to the 911 Memorial at the Club.  These bricks can be inscribed in the memory of a departed family member, loved one, or with your own name.  The Walkway enhances the beauty of the 911 Memorial dedicated in the memory of Daniel Trant, Tara Creamer and Brian Murphy.  Cost is $75.00 per brick.  Forms are located at the Club and here under "List of Forms".

Commemorative Veteran's Coins

The Club has created a Commemorative Veteran Coin to be issued to the Club's Irish-American Veterans.  You are also eligible to receive one on behalf of a deceased family member that was a veteran.  The coins can be personalized with an engraving at your own expense.  Please contact Dermot Hurley to receive your coin.

Club Dues

General Membership - $70.00, Seniors Over 62 - $35.00.   Women's Aux - $35.00, Seniors Over 55 - $17.50.  There is a $10.00 late fee for payment after February 1st.  An initial one-time fee of $100.00 for new general members will be assessed.  This fee is waived for new members between the ages of 21-35.