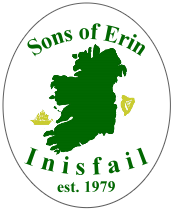 Club News
Re-Opening Date with Guidelines

For members, we've moved downstairs! There are plenty of seats with social distance in place, also televisions for all your favorite sports and more.

Hours of operation: Daily from 12:00 Noon to 8:00 p.m.
Masks must be worn upon entrance and whenever moving through the facility, including on trips to the restroom. NO EXCEPTIONS!
No standing and eating or drinking at the bar or anywhere else will be allowed. Whenever you will be eating or drinking, you must be seated.
We must all practice social distancing
When you are ready to leave, you are responsible for wiping down your table with a sanitizer, which will be available throughout the facility, and a paper towel. Also, please return your bottles to a table next to the bar.
Members only will be allowed.

 

 

 

2020 Scholarship Recipients

The 2020 Scholarship recipients have been announced, and are listed below, thank you to everyone who donated!

The Scholarship Committee would also  like to acknowledge and thank the family of Norma and Tom McElligott for our new scholarship!  Your kindness is very much appreciated! 

Sons of Erin Scholarship Brooke Frisbee, Shannon Bilodeau, Shayna Sullivan, and Kelsey Oleksak

Sons of Erin Women's Auxiliary Scholarship, Kealyn Matuszczak
 
Wendy Burke Memorial Scholarship, Jillian Conroy
 
Edward Ferriter Memorial Scholarship, Maura Wurster
 
George Heath Memorial Scholarship, Connor O'Neill
 
Richard Hills Memorial Scholarship, Christopher Baker
 
Patrick Hurley Memorial Scholarship, Robert Piper
 
Donna Liptak Memorial Scholarship, Hannah Baker
 
Susan Mulvenna Memorial Scholarship, Bailey Tymeson
 
Norma and Tom McElligott Memorial Scholarship, Hannah Jury
 
James Michael O'Connor Memorial Scholarship, Ciara Helay

 

Hall or Pavilion Rentals

To rent our facilities please contact our Bar Manager, Brian Colton, by phone at (413) 537-0490.

2020-2021 Colleen and her Court

Our 2020-2021 Colleen is Brigid Mary Moriarty!  Brigid is 18 years old and a senior at Westfield High School. 

Brigid is captain of both the Varsity Volleyball Team and Varsity Tennis Team.  She is a member of the National Honor Society and serves as Historian of the Westfield High School Chapter.  Brigid is also a member of Best Buddies, Key Club and Council of Peer Educators.

Brigid volunteers as an altar server and CCD teacher for Our Lady of the Blessed Sacrament Parish.  She enjoys babysitting, traveling, and playing club volleyball.

Upon graduation, Brigid plans on attending college in the Boston area.  She plans on majoring in biology with a concentration in Health Sciences and a minor in Spanish, possibly studying abroad in Spain for a semester. Brigid would like to eventually pursue a career as a Physician's Assistant.  Brigid plans on playing volleyball at the collegiate level.  

Our 2020-2021 Court:

Hannah Elizabeth Bean - Hannah is 18 years old and a senior at Westfield High School.  She is employed part time at Roots Aquatic Swim School and Athletic Center.

Hannah is a member of the Elective Board on Student Council and the Council of Peer Educators Club.  Hannah is also dual enrolled at Westfield High School, American International College and Holyoke Community College.

Hannah enjoys babysitting, teaching swim lessons, and being a camp counselor in the summer.  She also enjoys running, exercising, painting and writing. 

Hannah plans on attending Coastal Carolina University in South Carolina in the Fall and major in Communications with a minor in Spanish. 

Emily Marie Langlois - Emily is 17 years old and a Senior at Westfield High School.  She is employed part time by the YMCA of Greater Westfield as a lifeguard.

Emily is a member of the Westfield High School swim team as well as the Pioneer Valley Aquatic Avenger's (PVAA) Club swim team.  Emily plays the flute in the marching band and is a member of the wind ensemble.  Emily is also a member of the National Honor Society, the Tri-M Music Honor Society and Cross-Fit Club.    

Emily serves as President of the YMCA Leaders' Club and enjoys volunteering her time at Camp Shepard and teaching swimming lessons to children. 

Upon graduation, Emily will be attending Union College where she will be majoring in Bio-medical Engineering and competing in swimming at the collegiate level.

McKenzie Grace Augustine Kiltonic - McKenzie is 17 years old and a senior at Westfield High School.  She is employed part time by Applebee's Restaurant.

McKenzie is a Student Council Class Representative and a peer mentor with the Best Buddies program.  She is also a member of the diving team and lacrosse team.  McKenzie played soccer her freshman and sophomore year and served as the team manager.

McKenzie enjoys volunteering at the Westfield Soup Kitchen.  In her free time, McKenzie enjoys art, painting, singing and snowboarding. 

McKenzie plans on attending the University of Massachusetts at Amherst in the Fall.  She plans on studying communication disorders and eventually pursue a career as a Speech Language Pathologist.  

Jillian Rose Conroy - Jillian is 18 years old and a senior at Westfield High School.  She is employed seasonally by the Summer House.

Jillian is a member of the National Honor Society, Captain of the Westfield High School Diving Team and is in the process of starting a Conservation Club at school. She also participated in soccer during her freshman and sophomore year.

In her free time, Jillian enjoys volunteering on Saturday mornings at Amelia Park Children's museum, painting, drawing, calligraphy, and reading.  She is also interested in biology and playing soccer, diving and gymnastics.

Upon graduation, Jillian plans on attending Westfield State University and majoring in Biology to prepare for a career in Animal and Wildlife Conservation. 

 

 

 

The 2020-2021 Billy Buzzee "St. Pat on the Back" Award

Congratulations to our Billy Buzzee St. Pat on the Back award winner Jim Hogan! Jim has been a member of the Sons of Erin for over 30 years. He has been Chairman/Treasurer of the Scholarship Committee since 1992. He is a past Irishman of the Year (2008). He has volunteered at numerous fundraisers and activities including helping at many breakfasts, golf tournaments, concerts, picnics, etc.  Jim spent 44 years with the former A&P Super Food Mart with the last 22 years serving as Store Manager of the Connecticut Division of A&P Wine and Spirits SuperStore. He currently works for the Westfield Public Schools Maintenance Department. Jim is a lifelong Westfield resident and the proud father of daughter Christine.

2020-2021 Parade Marshal

Congratulations to the 2020-2021 Parade Marshal Packie Smith!  Packie was raised in the west of Ireland on a farm in County Leitrim. Sports played a big part in his life growing up and a trip with his local Gaelic Football club lead him to New York in 1985. Shortly thereafter, through work he settled in Westfield, MA where he now owns and operates his own roofing business, Lifetime Tilers, Inc.  He and his wife Sheila, who hails from County Longford, have five kids –    Sinead, Aisling, Padraig, Deirdre, and Seamus - all of whom attended St. Mary's schools in Westfield. Packie returns to his homeland often and remains a longtime supporter of his native Drumreilly Gaelic Football Club.  He is also recognized for his effort to promote the sport for kids here in Western Mass through coaching and sponsorship of the Wolf Tones Gaelic Football Club.
 
You might find Packie enjoying a good Pint of Guinness with friends at the Sons of Erin where he has been a member since 1986.
 
 

2020-2021 Thomas M. Kane Irishman of the Year

Congratulations to Mark Hanrahan on being named the 2020-2021 Irishman of the Year.  Mark has been a member of the Sons of Erin for 28 years, a member of the Float committee for 26 years, Chair for the last five.

Originally from Suffield, Mark has been a resident of Westfield for 35 years. Raised three children here, students of St. Mary's Elementary and Westfield High School. Married to the wonderful Patricia O'Neil.  Grandfather to 4 wonder children all residents of California, Mark and Tricia travel quite a bit.  He's been r

etired for over 3 years from the logistics industry.

 A graduate of Assumption College, where he escaped from with a degree in Foreign Affairs/Economics. 

Mark's interests are varied, coaching in several youth sports when the children were young, volunteering for several social and civic organizations in Westfield over the years I now confine my activities to the pursuit of good scotch and fine draft beer and a few other things.

 

Mark is a former Westfield Parade Marshal and two time Westfield Democrat of the year.

2020-2021 Dorothy B. Griffin Irishwoman of the Year

Congratulations to Beth Burns on being named the 2020-2021 Dorothy B. Griffin Irishwoman of the Year.

Beth (Warner) Burns has been a member of the Sons of Erin Women's Auxiliary for over 25 years, having previously served as Vice President and now President of the Auxiliary which numbers over 200 members strong.  She is also a member of the Sons of Erin Colleen Committee who, through various fundraising activities, finances and orchestrates the annual Westfield Colleen Contest.  She is a regular volunteer at other club functions, including the annual Irish Fest, Mother's Day Breakfast, and can be found selling corned beef sandwiches at the club on St. Patrick's Day.  Beth is the Human Resources Coordinator at Westfield Gas and Electric and resides in Westfield with her husband Jim, daughter Carrie, son Jeremy and his wife Cara.  She is also the very proud grandmother of Jake and Levi Burns.  

Newsletter / Newsblast

The Club's conversion to an email format for our newsletter is ongoing. This conversion is a substantial savings to the Club in postage, printing and labor, as well as being an eco-friendly alternative.  If you have not already done so, please send your email address to soewestfield@gmail.com to receive your newsletter online.  If you have no access to a computer, you may send your mailing address to Sons of Erin Newsletter, P.O. Box 1136, Westfield, MA 01086, Attn: Karen Casey, to receive a hard copy of the newsletter.  Let's Go Green!!!

2021 Club Officers

Congratulations to the 2021 Club Officers

President - Jim Laverty

Vice President - Peter Miller

Treasurer - Bridget Canty

Sgt. at Arms - Kevin Fitzgerald

Recording Secretary - Megan Sweet

Membership Secretary - Dennis Moran

Board of Directors

Mike Conroy

Dermot Hurley

Steve Griffin

Mike Kane 

Steve Witkus

Mike McMahon

 

Quote of the Month

"Spread love everywhere you go." - Mother Teresa

☘️ 

General Membership Meetings

The Club's General Membership meetings are held on the first Sunday of each month at 12:00 noon.  Meetings are usually suspended for the summer months of June, July and August. 

Commemorative Bricks

The Building Committee is selling Commemorative Bricks that will be used to pave a "Memorial Walkway" leading to the 911 Memorial at the Club.  These bricks can be inscribed in the memory of a departed family member, loved one, or with your own name.  The Walkway enhances the beauty of the 911 Memorial dedicated in the memory of Daniel Trant, Tara Creamer and Brian Murphy.  Cost is $75.00 per brick.  Forms are located at the Club.

Commemorative Veteran's Coins

The Club has created a Commemorative Veteran Coin to be issued to the Club's Irish-American Veterans.  You are also eligible to receive one on behalf of a deceased family member that was a veteran.  The coins can be personalized with an engraving at your own expense.  Please contact Dermot Hurley to receive your coin.

Club Dues

General Membership - $50.00, Seniors Over 62 - $25.00.   Women's Aux - $35.00, Seniors Over 55 - $17.50.  There is a $10.00 late fee for payment after February 1st.  An initial one-time fee of $100.00 for new general members will be assessed.  This fee is waived for new members between the ages of 21-35.