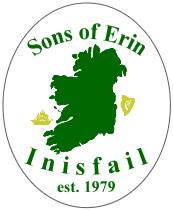 Club News
Scholarship Applications

Sons of Erin Scholarship Applications for 2020 are now available on our website under "List of Forms". Changes have been made to the qualifications needed to apply for the scholarship. It is now open to students pursuing a 2 year or 4 year program as well as those attending technical training. All submissions must be made through the mail by March 17, 2020.  

Children's Christmas Party

The SOE Children's Christmas party will be held on Saturday, December 14th at 9:30am.  This event is open to all children or grandchildren (10 years and under) of SOE members.   A buffet breakfast of pancakes, French toast sticks, bacon, scrambled eggs, juice, milk and coffee.   Free for children and $5 for adults (optional).   Sign up sheet for this event is available on the bulletin board at the club. The final date for sign up is Saturday, December 7th.  Please include each child's name, age and gender on the sign up sheet. 

Colleen Contest and Ball

Save the date!
The 39th Annual Colleen Contest and Ball will be held on Friday, February 7, 2020 at Chez Josef in Agawam.  Tickets will be available at the club by the end of December.   The committee is now accepting program advertisements and sponsorships.  If you'd like to support our program please submit the appropriate form to the SOE Colleen Committee, which are both found on our website, sonsoferin.com.

Hall or Pavilion Rentals

To rent our facilities please contact our Bar Manager, Brian Colton, by phone at (413) 537-0490.

2019 Colleen and her Court

Our 2019 Colleen is Hannah Elizabeth Jury.  Hannah is 17 years old and a senior at Westfield High School, where she serves as Class President.  She is employed part time by American Eagle at the Holyoke Mall and Northside Creamery over the summer.

Hannah is a member of the Council on Peer Education, the Quiz Team, Cross Country Team, Spanish Club, Student Council and has been inducted into the National Honor Society.  In her free time, Hannah enjoys running, reading, photography and participating in outdoor activities such as hiking, skiing and kayaking.  She also has an interest in history and politics.

Upon graduation, Hannah plans on attending a four year college in the New England area and majoring in environmental policy and Spanish or economics.  She hopes to later attend graduate or law school and would eventually like to settle in Boston or New York City.

Our 2019 Court:

Fionnuala Jane Matthews - Fionnuala is 17 years old and a senior at Westfield High School.  She is employed part time by Friendly's Ice Cream.

Fionnuala is President of the Westfield High Debate Team, Varsity Field Hockey team, and plays the clarinet in the Westfield High Band.  During her junior year, she participated in the GAPP German American Partnership Program as a host and exchange student with another student in Germany.  She also writes for and participates in the One Act Plays.   Fionnuala enjoys baking, reading, embroidery, roller-blading and volunteering at her church.

Fionnuala plans on attending a four year college and majoring in Medieval Studies.  After earning her bachelor's degree she plans on attending law school and becoming a Criminal Defense Attorney.

Maura Reilly Wurster

Maura is 17 years old and a junior at Southwick Tolland Regional High School.  She is employed part time by The Hash House in Southwick.

Maura has been inducted in to the National Honor Society.  She is captain of the Varsity Basketball team and a member of the varsity soccer team.  She also serves as a tutor at the Homework Help Club.  Maura spends her free time volunteering in the NICU at Baystate hospital.  She also enjoys sports, babysitting, snowmobiling and hiking. Maura also plays premier soccer in the winter and spring.

Maura plans on attending a four year college and pursuing a degree in the medical field.  She would like to one day work in a hospital, possibly in the pediatrics field.

Kaitlin Rose Sicard

Kaitlin is 17 years old and a senior at Westfield High School.  She is employed part time by Amelia Park Children's Museum.

Kaitlin is a member of the National Honor Society, Student Council Class Representative, and Secretary of the Future Business Leaders of America.  She serves as chairperson of the WHS Annual Pep Rally and is sports editor and business marketer/advertiser for the Yearbook.  She is also a member of the Westfield High Quiz team, field hockey team and a member of the Spanish Club.  Kaitlin enjoys playing volleyball and field hockey as well as makeup and fashion.  Kaitlin also interns for MA State Representative John Velis.

Kaitlin plans to attend a four year college in the New England area and major in Political Science or Business.  

Shaunessey Evelyn Lambert

Shaunessey is 17 years old and a senior at Westfield High School.  She is employed part time by Shortstop Bar and Grill.

Shaunessey plays tuba in the WHS Band, and is a member of the Cheerleading team and Drama club.  She serves as president of the Singer/Songwriter club and Historian of the Tri M (Modern Music Masters) Society. Shaunessey enjoys singing and music as well as theater, writing, knitting and dance and choreography.

Upon graduation, Shaunessey plans on enlisting in the National Guard while attending college to study Music Education and Psychology.  She would like to fulfill her enlistment working with soldiers who suffer from PTSD.  After her enlistment, Shaunessey would like to seek a position teaching music at a local high school and pursue her license for music therapy.  She hopes to work with special needs students and to help them learn in a more inclusive environment, while also sharing her extensive knowledge in music with the next generation of musicians.

 

The 2019 Billy Buzzee "St. Pat on the Back" Award

Congratulations to our Billy Buzzee St. Pat on the Back award winner Helen Tymeson!   

Helen was born and educated in Albany NY and has lived in Westfield since 1972.  She is currently a district manager for Dunkin Brands.

Helen has been a member of the ladies auxiliary for over 20 years and is a former Irish woman of the year.  She is a member of the Colleen Committee and is currently the chairperson.  She helped to organize and run the first Billy Buzzee golf tournament and has helped organize and run the Colleen Ball, Colleen golf scramble, and Night at the Races.  Helen helps cook breakfast on parade day and Mother's Day.  Helen plays on the softball team, golf league and the bowling league.

Helen is married to Ed, has been for 48 years, they have 3 grown daughters and 7 grandchildren.

 

 

 

2019 Parade Marshal

Congratulations to the 2019 Parade Marshal Bo Sullivan!  

Bo is a member of Westfield School Committee.  Currently, he is the Executive Director of the Irish Cultural Center in West Springfield, Massachusetts, soon to be Chief of Advancement for the Westfield Boys and Girls Club.  Previously Bo was employed as a radio talk show host at WHYN for over 20 years.  He's also been a 17-year board member of the Boys and Girls Club of Greater Westfield, serving 9 years as President.  Included in that tenure was a $3 million expansion specifically for before and after school programs for the city youth.  Bo is a graduate of the Westfield Public School system, WHS '85.  He graduated from the University of Hartford in 1989 with a degree in communications.  Bo is married to Kris Sullivan, also a graduate of Hartford, and they have two daughters, Leighanne and Shannon, both currently attending four-year colleges, having recently graduated from Westfield High School and the Westfield Public School System.

Bo has also, been involved with numerous other charities in raising money.  Including the Jimmy Fund, YMCA, Big Brothers Big Sisters, Make a Wish, plenty of local sports teams.  He coached both daughters in soccer, basketball, softball and was a 5-year member of the Westfield Youth Soccer Association and a Board member of Westfield Little League and has been a member of the Sons of Erin since his 21st birthday!

Bo is a past member of the Scholarship Committee where he helped put on plenty of Charity horse race nights!

Bo has hosted colleen ball for 27 years!  Bo has been involved with numerous political campaigns, "some winners and some losers…"  

​

2019 Thomas M. Kane Irishman of the Year

Congratulations to Jim Rood on being named the 2019 Irishman of the Year.  

Jim is a lifelong resident of Westfield, the grandson of Irish immigrants Michael Moran and Ellen Lucy from County Kerry.  He  graduated from St Mary's and Westfield State University. Jim has been happily married to Maryjo for 42 years and they are the proud parents of three boys Sean, Patrick and Liam.  Jim and Maryjo can always be counted on at outdoor clean up days and the Meadow Street gardening.

Jim is now retired from the City of Westfield after 38 years of service.  He had the honor to be president of the Labor union (AFSCME) in the late seventies and for the last 25 years was Comptroller for the Westfield Gas &Electric Department.  While at the WG&E Jim helped create a captive insurance company (PUMICRRG) and a risk management association (PURMA). The organizations provide liability insurance at lower than commercial market cost for the WG&E and now more than 70 other municipal utilities across New England and New York.

Jim is a lifetime member of the SOE where he enjoys the friendships and laughter on a frequent  basis. 

2019 Dorothy B. Griffin Irishwoman of the Year

Congratulations to Terri Broderick Hathaway on being named the 2019 Dorothy B. Griffin Irishwoman of the Year.   

Terri has lived  in  Westfield her entire life, and is a product of the Westfield public school system.  She began her insurance career in 1981 with John Hancock then opened Theresa M. Broderick Insurance Agency in 1986.  Her dad was a member of the Sons for many years, and he bought her first membership after her mom died in 1988.

Terri has played golf out of Shaker Farms and St Ann's Country Club for many years, and has recently taken up fly fishing! Terri currently sits on the Board of Directors for the Westfield Soup Kitchen and was named Business Women of Influence in 2018. She has had similar success at the SOE with her involvement with the ladies auxiliary . She was the Auxiliary President for the past three years and during this time was able to get the SOE women's softball team back on track, and start a bowling league. She's been known to help out behind the bar when needed, and runs a pretty good Trivia night! 

Newsletter / Newsblast

The Club's conversion to an email format for our newsletter is ongoing. This conversion is a substantial savings to the Club in postage, printing and labor, as well as being an eco-friendly alternative.  If you have not already done so, please send your email address to soewestfield@gmail.com to receive your newsletter online.  If you have no access to a computer, you may send your mailing address to Sons of Erin Newsletter, P.O. Box 1136, Westfield, MA 01086, Attn: Karen Casey, to receive a hard copy of the newsletter.  Let's Go Green!!!

2019 Club Officers

Congratulations to the 2019 Club Officers

President - Jim Laverty

Vice President - Dermot Hurley

Treasurer - Bridget Barber

Sgt. at Arms - Kevin Fitzgerald

Recording Secretary - Megan Sweet

Membership Secretary - Dennis Moran

Board of Directors

Mike Conroy

Peter Miller

 Bill Wallace

Steve Griffin

Steve Witkus

Mike McMahon

 

Quote of the Month

 "May the songs of the season rise to greet you. May the winter wind be always at your back. May the frost shimmer soft upon your fields. And, until we meet again, May the love of God shine warm upon your home."
 

General Membership Meetings

The Club's General Membership meetings are held on the first Sunday of each month at 12:00 noon.  Meetings are usually suspended for the summer months of June, July and August. 

Commemorative Bricks

The Building Committee is selling Commemorative Bricks that will be used to pave a "Memorial Walkway" leading to the 911 Memorial at the Club.  These bricks can be inscribed in the memory of a departed family member, loved one, or with your own name.  The Walkway enhances the beauty of the 911 Memorial dedicated in the memory of Daniel Trant, Tara Creamer and Brian Murphy.  Cost is $50.00 per brick.  Forms are located at the Club.

Commemorative Veteran's Coins

The Club has created a Commemorative Veteran Coin to be issued to the Club's Irish-American Veterans.  You are also eligible to receive one on behalf of a deceased family member that was a veteran.  The coins can be personalized with an engraving at your own expense.  Please contact Dermot Hurley to receive your coin.

Club Dues

General Membership - $50.00, Seniors Over 65 - $25.00.   Women's Aux - $35.00, Seniors Over 55 - $17.50.  There is a $10.00 late fee for payment after February 1st.  An initial one-time fee of $100.00 for new general members will be assessed.  This fee is waived for new members between the ages of 21-25.